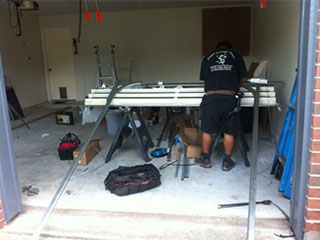 Automatic doors are complex systems with a lot of moving parts involved in their operation. Each part requires delicate care when it comes to maintenance or repair work, this is why a professional technician is always the best way to go when something goes wrong. When it comes to these systems, the risks involved in any DIY venture are far too great to be worth it.
Spring Adjustment And Replacement
From adjusting the tension of your springs to making sure your door is properly balanced, to removing them when they become damaged and installing new ones in their place, there's no type of spring related service that our team can't complete to perfection.
Electric Opener Repair
The opener provides your system with the ability to function automatically and is comprised of complicated electrical and mechanical components. This means that when opener repairs are in order, a vast range of skill and experience is necessary to complete the work successfully. Not to worry. Our team can replace worn out motor gears, install new circuit boards, and anything else needed to ensure your opener is fully functional once again.
Regular System Maintenance
The best way to ensure that your garage door continues to function optimally for as long as possible is to have it routinely checked and serviced. During our scheduled maintenance appointments, our team will inspect every inch of your overhead door system for evidence of wear and tear. We'll lubricate your springs and rollers, and ensure the track hasn't developed any bends or become blocked by debris. If it has, we'll take care of it on the spot.
We're Here to Help
Our experts at Garage Door Repair Rocklin offer quick and affordable solutions for any related issue that's putting a damper on your day - just give us a call to arrange an appointment.
We also offer:
Garage Door Cable Replacement
Emergency Garage Door Services
New Opener Remotes & Clickers
Garage Door Troubleshooting Services