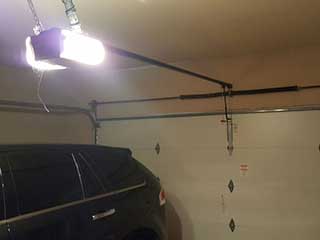 The opener you choose to get must be an excellent match for your garage door. In order to be sure you're making the right choice, you need to take some things into consideration before deciding which one to get. Our experts can help you make an informed decision.
Choosing The Right Brand
There are plenty of manufacturers out there, and knowing which one is the one you want to go for isn't as simple as it may seem. Genie and LiftMaster openers have special features that use rolling code technology, which will help keep your home secure from tech savvy thieves. Brands such as Chamberlain and Craftsman are also a great choice due to their high quality and longevity. Our team can advise you on the different brands and the unique models each one of them has to offer.
Getting The Right Type
Regardless of what brand you choose, or which model, every unit utilizes one of three different drive-systems. Chain-drive openers are often preferred for their affordability and strength, but they are also the noisiest of the three types. Belt-drive models are incredibly silent and smooth, but also more expensive. Screw-drive units require very little maintenance, and are also quite strong, but they aren't as quiet as some homeowners would prefer. As you can see, each type has its advantages and downsides, and knowing which one is going to serve you best is something you'll want to consult with an expert about.
Common Problems and Tasks
Worn out motor gears and malfunctioning circuit boards are the most frequently occurring issues that an opener can suffer from. Our technicians can – of course – handle them effortlessly, and, more importantly – safely. We can also test your opener's auto-reversal system and make sure that any misaligned safety sensors are returned to their appropriate position on the spot.
Just Call Us
Whether you need someone to install a new belt-drive opener for you, or you're looking for some help with a problem with any of the other types, our team at Garage Door Repair Rocklin is always happy to help. Contact us anytime.
Need more? We also provide:
Overhead Door Repair & Installation
Galvanized Torsion Spring Installation
Genie Garage Door Openers
Garage Door Tune Up Services